Whatever it is you want to achieve this year, it is more likely to be achieved with support. And what better a day to get support than a Monday! – I mean who likes Mondays?
This year come back every week and link up with Motivational Monday.
You can link up any post that is to related to Self-Improvement, to either keep yourself Motivated, or to help others be or stay motivated.
It can be inspiration, advice/tips, your journey. Anything from Craft with kids, Family time together, days out – to diet advice, your giving up smoking journey, exercise ideas, how you are making time for yourself, getting outside more, taking photos more regularly, – absolutely anything that is based around Self Improvement.
Come back on Mondays and link up your posts.
And of course then support others by commenting on their posts.
Including your own bloghops! As long as you come back and comment please.
Old posts also welcome.
Join the Google Motivation Community
What do you have in mind?
Getting in shape.
Running.
Improving diet.
Better planning/organisation/time management.
More recycling.
Do something charitable.
More time with friends and family.
Quality time with children.
More reading.
More time for yourself.
Enjoy life.
Cut down on alcohol.
Better financial habits. Spend less, save more.
Learn something new.
Help others.
Be more affectionate.
Take more photos.
Travel more.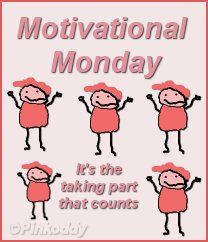 Related posts: