Well here we are, Day 6, so big well done to you for getting this far.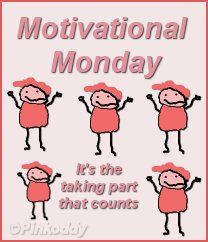 This week Guest Hosted by RedTedArt
Well this week my Motivation came from very sad times, as this last Friday marked the day of Kerry's (MultipleMummy) funeral.
If you wish to make a donation to Addenbrookes Charitable Trust (ACT) who looked after Kerry you can do here
I feel that this really was a time to appreciate what I had, and to pull my family really close to me. So we all went bowling.
Here are my top tips for helping to keep your New Years Resolutions:
Don't overdo it. The more you try and do the more you are likely to fail. Personally I have so much I want to change so I try and do one thing each day – like I will do a little exercise one day, concentrate on more reading another, drink more water on another – and so on.
Make it fun. The more you enjoy something the more likely you are to repeat it. That's why my "exercise" takes the form of Just Dance 4 on the Wii U.
Reward yourself – again making it more likely you will repeat the process.
Take one step at a time, and if you don't do something 100% right it doesn't mean you have to give up on trying.
Whether you've given up smoking, improving your diet, exercising, not drinking alcohol, spending more time with the children, taking more photos, something charitable, better organised, meal planning,recycling, more time for yourself – whatever it be, then we are going to help keep you motivated by supporting one another.
This may take the form of advice, or tips, inspirations, your own experiences, your journey.
So please link up, take the code and add it to your blog (I'm afraid it doesn't work on free wordpress) and pop along and help motivate each other (by commenting on each other's blogs). Or you can just link up.
Including your own bloghops & old posts! Please come back and comment and support one another.
Join the Google Motivation Community
Related posts: