This weeks Motivational Monday Post I have posted separately as it was just too big. So I have the linky in this post and my post linked up. I do hope you go and take a look at my adventures as Mr Blobby.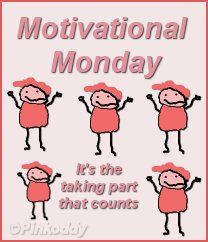 PLEASE REMEMBER TO COMMENT ON OTHER PEOPLE'S POSTS
If people don't comment then people will not join in and then there will be no point in the linky.
Link up anything Motivational or Inspirational or that you want Motivation or Inspiration for , it can be to do with resolutions, goals  crafts, days out, photos, achievements, favourite things – anything. No time to write a post? Then please do link up something in your Facebook or a picture you've instagrammed – follow me on instagram here
You can also find my MotivationalMonday support on Pinterest and Google+
Thank you for all those who supported the linky each week and welcome any newcomers.
FEBRUARY MOTIVATIONAL MONDAY THEME
Time to make someone feel Special
March – will be Spring.
Related posts: