Spring has sprung and now people are less likely to want to give up smoking because they do not mind going outside for a cigarette, and less likely to be suffering from chest infections. Although it is probably the best time to give up with No Smoking day being on Wednesday March 12th 2014, and a good time to get outdoors for some exercise. Many people are worried about weight gain when quitting smoking but this can be avoided by being aware of the changes that will happen to your body, and how you manage it.
Reasons why people put on weight when they stop smoking.
One of the reasons that weight gain can occur is that people replace the hand to mouth habit with food. Distraction is a good way to avoid this – why not do some cleaning, or phone a friend, get some exercise – or buy a vapourizer. Substituting smoking with exercise is always going to be a winner – heightened activity levels will release the feel good hormone endorphins making you feel great! That's got to better than that creeping guilt and sick feeling you get when smoking or binge eating. Smoking elevates metabolism, so when you quit you will burn calories at a slightly lower rate – so another good reason to use exercise as a way to distract yourself from reaching for a cigarette. However, don't feel bad if you put on a bit of weight, as the health advantages of kicking the habit will most likely outweigh any disadvantages of weight gain. You will have a great sense of smell and taste so may find you enjoy foods more, so will want to eat more. Try to avoid the sweet foods and snack on fruit and vegetables. Did you know you burn more calories than you eat with celery!
Nicotine inhibits insulin and insulin breaks down the sugars in your blood stream. When you smoke, and there is less release of insulin, the sugar stays in your bloodstream and creates a hyperglycaemic condition in the smoker which gives the smoker a "fuller" feeling. This is actually dangerous and is a risk factor for cardiovascular disease and type 2 diabetes. Nicotine is not a magic calorie burner by any means, exercise, on the other hand, can burn off 200-600 calories an hour as well as suppressing your appetite.  Water is another great way to give a fuller feeling.
It only takes 20 minutes of giving up smoking for your body to feel the advantages with blood pressure and pulse returning to normal. After only 24 hours the lungs start to clear. It takes only 2 days for the sense of smell and taste to improve. After 3 days you will find breathing has improved and energy levels have increased – this I find is the hardest day to get through, so knowing that there is more energy is a perfect time for exercise. Circulation improves after two to twelve weeks. Coughs, wheezing and breathing improve after three to nine months. Heart attack risk is half that of a smoker after only one year, and the risk of lung cancer is half after ten years.
I think it is easier to give up when you are not surrounded by smokers. Ideally if there's more than one of you giving up you can support one another, and even exercise together. What do you find difficult about not smoking? Or what have you found works for you? Are you able to save the money you have not spent on cigarettes, and do you have a goal you want to work towards? What are your reason(s) for wanting to give up?
Why not get some new running shoes with the money you save, and nutritional advice at SportsShoes.com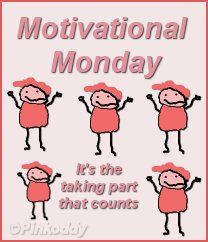 PLEASE REMEMBER TO COMMENT ON OTHER PEOPLE'S POSTS
If people don't comment then people will not join in and then there will be no point in the linky.
Link up anything Motivational or Inspirational or that you want Motivation or Inspiration for , it can be to do with resolutions, goals  crafts, days out, photos, achievements, favourite things – anything. No time to write a post? Then please do link up something in your Facebook or a picture you've instagrammed – follow me on instagram here
You can also find my MotivationalMonday support on Pinterest and Google+
Thank you for all those who supported the linky each week and welcome any newcomers.
March theme is Spring. The theme is just for inspiration.
This is a promotional post, for which some of the factual information has been provided for me but they are my words. I have been offered a pair of trainers as an incentive to keep healthy.
Related posts: