Losing weight and getting fit is it ever easy? There's always some sort of problem – time, motivation, effort. If you saw me you may question why I would even think about either – as I'm a size 12/14. Thing is it's the habits isn't it. I used to be a size 6 until I gave up smoking. I've even known to be a size 16 (and no that wasn't during pregnancy, I went up to a size 22 then). My diet isn't that good and I know I am passing on those habits to my children. I eat far too much processed food and too many carbs. What I need to do is eat more fresh produce and get more exercise.
I read the other day how parents need to do more exercise to encourage their children to do the same. I was actually pleased to see that I am achieving the recommended amount of exercise a week I should be doing just by walking more. But when my husband downloaded the MyFitnessPal app and I decided to join him I was given a big eye opener.
I've NEVER looked at calories ever. I know what is good and bad and just trying and modify my diet that way. We need to eat out less, eat more veg and  less processed food. We opted for a Happy Meal (which was hard as it meant no Monopoly tokens, how silly is that!) and I was really shocked to find that it still contained 725 calories! For a child's meal that was really shocking.
I was really actually quite shocked by the whole calorie counting way of dieting. First of all it probably goes without saying that you shouldn't just calorie count without the prior advice from a doctor but I was shocked that this app told me to eat only 1,200 calories a day. I don't mean to rub it in but I am in the zone for my body mass index. This is an app that did not even take into any consideration how many calories my body was actually used to. I did attempt to only eat this amount – but my first shock came when I had a small bowl (100g) of dried cranberries, which totalled 336 calories! I had no idea that fruit could contain so many calories!
The app has given me a real insight into things I just pop into my mouth with no thought because I consider them to be good. It also taught me just HOW bad some things are – who knew a tiny little (100g) bar of chocolate could be 535 calories!!! It has also taught me that I can have more of what I want with simple exercise steps (although we are not convinced they are accurate). Such as I discovered that it says if I run up and down my stairs for 2 ½ minutes I can burn enough calories to have a packet of normal Walkers crisps! Walking on the school run is burning off more calories than twice the amount of time doing housework! Although I did discover it was saying I eat portions bigger than I should be having (but please do measure the 100ml of milk I'm meant to have on my Weetabix and tell me that you could eat them that dry!)
And as I thought I eat too many carbohydrates and not enough protein. So I am actually looking at ways to improve this. I do see how a calorie counting diet could encourage people to skip food, especially when a glass of orange juice is 200 calories (again not fresh maybe that's my problem). I discovered that my breakfast cereal has loads of calories but a hard-boiled egg has just a quarter of them. The app is really helping me look at my food choices, but I have seriously upped the amount of calories per day as I was just feeling weak and dizzy.
 I have to admit though I have been drinking a lot more water since January and I've even seen an increase in my two oldest boy's water consumption. I know I ought to get out with the children more, which will be good for both of us. Now I have new walking shoes to help encourage me.
What do you do to help your diet and exercise?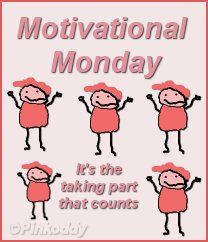 PLEASE REMEMBER TO COMMENT ON OTHER PEOPLE'S POSTS
PLEASE ONLY ADD ONE LINK PER BLOG
If people don't comment then people will not join in and then there will be no point in the linky.
Link up anything Motivational or Inspirational or that you want Motivation or Inspiration for, it can be to do with resolutions, goals  crafts, days out, photos, achievements, favourite things – anything. No time to write a post? Then please do link up something in your Facebook or a picture you've instagrammed – follow me on instagram here
PLEASE IT MUST BE RELEVANT OR IT WILL BE REMOVED
You can also find my MotivationalMonday support on Pinterest and Google+
Thank you for all those who supported the linky each week and welcome any newcomers.
April's theme is Getting Healthy. The theme is just for inspiration.
This is NOT a sponsored post.
Related posts: