Hi everyone. I would just like to say thank you for reading my blog. It has been running for 3 years this August and I thought that I needed to remind myself the reason why I do it.
If I am really honest I'm not the domestic housewife and mother. Blogging brings about motivation for family time. It makes me find new things to do with the boys and then to share. The things I used to write about are the same as I do now apart from the fact that before we had more of a financial loss by paying for everything. I do apologise that there is a lot more "review" posts but again these are only things for my children, that mean I spend more time with my children.
The other main reason for the blog was to help others – hence the money saving and giveaways. Again I only share things I believe in.
As for Motivational Monday this week I have been doing a lot of walking with my children. Not only that but sharing a lot of laughter, which I'm sure is good for health.
Do go check out my Instagram for what I've been up to. Next Monday is my son's 5th Birthday so there will be no MotivationalMonday, which will return on April 28th. Feel free to link up each weeks posts on that linky.
Wishing you a very Happy Easter.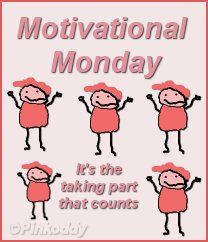 PLEASE REMEMBER TO COMMENT ON OTHER PEOPLE'S POSTS
PLEASE ONLY ADD ONE LINK PER BLOG
If people don't comment then people will not join in and then there will be no point in the linky.
Link up anything Motivational or Inspirational or that you want Motivation or Inspiration for, it can be to do with resolutions, goals  crafts, days out, photos, achievements, favourite things – anything. No time to write a post? Then please do link up something in your Facebook or a picture you've instagrammed – follow me on instagram here
PLEASE IT MUST BE RELEVANT OR IT WILL BE REMOVED
You can also find my MotivationalMonday support on Pinterest and Google+
Thank you for all those who supported the linky each week and welcome any newcomers.
April's theme is Getting Healthy. The theme is just for inspiration.