What better than to Say it with Flowers to make someone feel special. They make such great gifts – Valentine's, Mother's Day, Birthdays, Anniversaries,Thank you, Sorry, Or just because.
What nicer way to receive the gift of flowers than if they are home-made – carefully crafted. Once you've made flowers you can add them to cards, put them in Vases, put them on Easter Bonnets, turn them into badges, bunting, let your imagination run wild.
Here is a selection of craft flower ideas from myself and other bloggers.
Simple Rose – In the Playroom
Golden Daffodils – Me and My Shadow
Tissue Paper Flowers – The Imagination Tree

Flower Pressed Collage & Origami Flowers - HereComeTheGirls
How to make a Pom Pom Flower – Domestic Goddesque
Fabric Flowers – MeandMyShadow
Crocus Card – Domestic Goddesque 
Dip dye doily flowers – The Imagination Tree
Tissue Paper Lollipop Flower – Red Ted Art

Finger Print Poppy – Domestic Goddesque
Tissue Paper Flower Fairy Lights – Red Ted Art
Learn about the Science of Flowers – Changing Colour flowers with Transpiration – Science Sparks
For more Flower Craft ideas visit RedTedARt and Check Out the Flower Craft Hangout with Maggy Woodley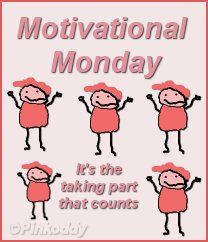 PLEASE REMEMBER TO COMMENT ON OTHER PEOPLE'S POSTS
If people don't comment then people will not join in and then there will be no point in the linky.
Link up anything Motivational or Inspirational or that you want Motivation or Inspiration for , it can be to do with resolutions, goals  crafts, days out, photos, achievements, favourite things – anything. No time to write a post? Then please do link up something in your Facebook or a picture you've instagrammed – follow me on instagram here
You can also find my MotivationalMonday support on Pinterest and Google+
Thank you for all those who supported the linky each week and welcome any newcomers.
FEBRUARY MOTIVATIONAL MONDAY THEME
Time to make someone feel Special