Trick or Treating isn't for everyone. We tend to only go and visit people we know, but even then some people  just consider it begging.
For those of you who visit my SensorySeeker blog you will know that recently we had some good sensory fun with dinosaurs. Well I thought what a good Halloween alternative to trick or treat would some sensory spiders be.
I filled 3 tubs with spiders, water and some food colouring.
Then simply ran a hot bath and let the children each lose with a frozen coloured block containing the spiders.
I think it was quiet a surprise just how fast they did defrost. The boys loved how the food colouring changed the colour of the bath.
They loved playing the spiders even after the water had defrosted too. My 10 year old asked if it was apple and blackcurrant squash to colour the water – which would have been cheaper. I explained that this would have made the bath sticky and not clean, but that it would have been good for a party idea – or out of the bath play.
I think a party is a nice alternative to trick or treating, it gives a great opportunity to get together with family, friends and/or neighbours. Personally I prefer it to children walking in the streets in the dark, in dark clothing.
Here are some other things to think about when planning a Halloween Party.
Halloween Decorations
Decorations can give the place a really good spooky feel.You can make them in the run up to Halloween – especially good if it falls over the school holidays.
Why not simply draw around your hands on some white paper, turn upside-down and draw on a face – GHOSTS – thread through some string and make Halloween Bunting!
Me and My Shadow and other Spooky Crafts
Or some Paper Lantern Bats and Ghosts over on Domestic Goddesque
Make a mummy – you could always turn him into a Guy afterwards.
You could use your spider creations and I've since seen these fantastic Spider Horse Chestnuts by RedTedArt
not forgetting her Halloween Lanterns
Of course pumpkins are great at adding to the mood – there are absolutely loads of Pumpkin patterns on the internet – what will you create?
Halloween Party Food
Of course there's the Halloween Cakes on last weeks Motivational Monday
Spooky sweets can be added into your pumpkin – or put one on your doorstep if you don't want to be disturbed.
Halloween Drink
Blood fountain!
Halloween Games
Amazing what a bit of food colouring can do to the feel of water. Apple bobbing – with eye balls!
Slimey spaghetti, some food colouring – will you find the right coloured ball to win a sweet – no peeping now.
If you don't fancy a party, or Trick or treating, then maybe do some Halloween Science.
Do check out the many many Halloween ideas on the Pinterest Board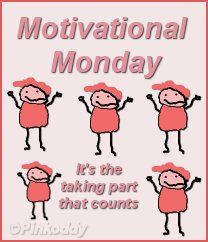 PLEASE REMEMBER TO COMMENT ON OTHER PEOPLE'S POSTS
I realise we are all busy that is why the linky is up for a week – giving you plenty of time to comment on some of the other entries. We need to build a community spirit and help one another. Ideally one a day would be amazing – but even 3 a week would help motivate someone else. Thank you.
October the theme is Fall/Autumn/Halloween.
It is just a guide and can be to do with crafts, days out, photos, achievements, favourite things – anything.
Find us on Pinterest and Google+ 
I am sorry I did not get around to shouting out your posts on twitter this week but I had a bit of a long week, with us being one step closer to our youngest being diagnosed and he also had a chest infection. Those following me on my instagram will also know that I've had a few social dates to attend too.
Related posts: