In case you were not aware Emma Day, who blogs over at Crazywithtwins, had to have internal radiotherapy – read my original post here. Luckily it came out of her body quicker than she thought and is able to hug her family again.
Today I am hosting the Shoulder to Shoulder To Day Bloghop – please link up posts for Emma – to cheer her up, or to tell your story.
We would like to find a Sponsor to buy an iPad for the iodine room at the Cheltenham General Hospital – please get in touch if you can help.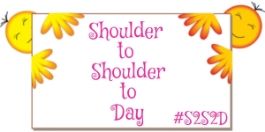 When I was 20 my Mom died.
She had breast cancer and she had to have her whole breast removed (mastectomy). She just happened to feel it in the shower one day.
I was 17 when she discovered it.
And when I was giving birth to my first born my mother couldn't be there for me. She was too ill from chemotherapy and radiotherapy.
Then I got a cold whilst in hospital, so I couldn't go home as it would put her at risk.
Mom was a fighter. All through her illness she just kept on giving. She was such a wonderful, kind woman and will always be remembered as an amazing woman.
But then she worried she had cervical cancer, she kept on bleeding.
It turned out to be a polyp which she had removed.
The operation went wrong and they perforated her bowel – a routine, minor operation.
To cut a long story short she had cancer on her liver, and was so very ill that I decided it best to turn off her life support machine.
Immediately after this I received a call from my nurse.
Luckily I had had a smear because I had had a baby – I had abnormal cells.
I ignored it.
I moved away.
Three years passed.
I finally went back to have someone look at my cells.
I was so dam lucky, they were able to treat it!
Then I started to bleed down below.
There was talk of it being a Polyp.
I was terrified.
Removing a polyp in my mind is the reason my mother had died.
But what if it was cancer.
I had 2 small children – I couldn't leave it.
The hospital were really good and knocked me out (I also have a needle phobia) with a mask and let me go in first.
It was all fine.
My friend wasn't so lucky. She ignored the lumps on her arms – by the time she went to the doctors it was too late!
So PLEASE make sure you get any lumps checked out.
On a more cheery note.
I read about Emma's 30 at 30 list over on PODcastdove
The first 2 are:
1) Watch a famous ballet
2) Go to an opera
So I contacted the very lovely Beckie over at
The Roses Theatre and she has very kindly sent Emma
TWO FREE TICKETS TO THE NUTCRACKER – For Wednesday 6th November
AND
TWO FREE TICKETS TO ALBERT HERRING – For Saturday 28th September
THANK YOU so much
Tomorrow it is being hosted at: Over 40 and Mum to One and Whiskey For Aftershave
There is also a few surprises for Emma ' if you would like to find out more and make a contribution then please email: vickywelton@hotmail.com and put in the subject 'Emma's Collection'.
On twitter please use the hashtag #S2S2D and let's get it trending and help raise more awareness.
This is NOT a sponsored post.